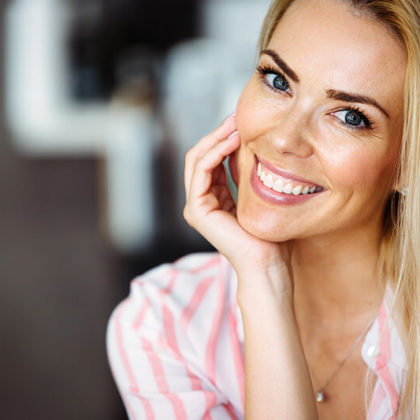 Botox® Cosmetic
No matter how diligently you care for your complexion in your youth, wrinkles are bound to make an appearance at some point. Faint lines in the outer corners of the eyes and deeper creases across the forehead are common byproducts of the passage of time. Vertical wrinkles form between the eyebrows to give you a perpetually sad, angry, or worried expression.
While you may not be able to prevent these lines and wrinkles from appearing, you can diminish them and restore your youthful appearance. In many cases, treatment is quick, relatively comfortable, and requires no anesthesia or downtime to get the results you want. Dr. Upton and the expert team at LaserMD, LLC, can help you achieve your aesthetic goals with Botox® treatments that have been proven both safe and effective after many years of use.
Relax Away Signs of Aging
Botox® Cosmetic is a therapeutic muscle-relaxing agent (protein) that targets the motor nerve endings. Motor nerves are responsible for controlling the facial muscles that create different expressions, such as smiling, frowning, and squinting. These expressions can create lines on the face, specifically around the forehead and eyes. At first, you may only notice the lines when you make particular faces. However, over time, the creases may become permanently etched on your skin, causing you to look older than you feel.
The protein in Botox® temporarily disables the nerve signals to the muscles, thereby minimizing muscle contraction. Botox® Cosmetic is a medication used for the temporary improvement in the appearance of moderate-to-severe frown lines (glabellar lines). The corrugator and procerus muscles cause vertical lines that develop between the eyebrows in the upper face. Other areas where Botox® can have a positive effect include the horizontal creases across the forehead and the subtle lines that fan out from the outer corners of the eyes, known as crow's feet.