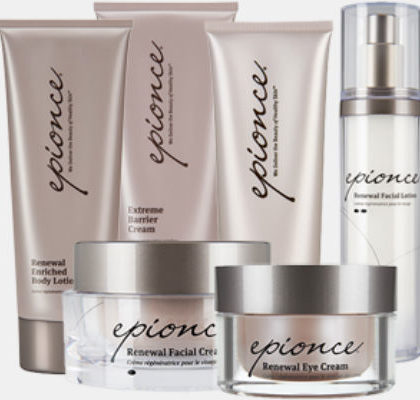 Epionce® Products
The beauty of healthy skin.
Epionce® products improve the appearance and health of your skin with a four-step regimen.
Step 1
Cleanse and Prepare. Epionce® cleansers gently remove dirt, oil, and makeup. Toners remove impurities.
Step 2
Correct and Boost. These products encourage cell turnover and help reduce blemishes.
Step 3
Renew and Fortify. Step 3 products strengthen, repair, and hydrate the skin.
Step 4
Protect and Prevent. These products maintain results and help prevent aging and skin cancer associated with UV exposure.
Epionce® products are personalized and tailored to fit your skin type and skin needs. Dr. Upton and her staff will consult with you to create the regimen that will work best for your skin and appearance goals.
The Epionce® product line uses botanically based formulas. They are all paraben, fragrance, sulfate, gluten and cruelty-free!
The products are studied by nationally recognized independent research organizations in clinical studies that have proven scientific results.
Epionce® is a locally owned company based in Boise, Idaho.